PLEASE BE ADVISED ! WEBSITE RECENTLY CLOSED YOU CAN CALL US IN OUR STORE FOR PHONE ORDERS FOR THE SONDRA ROBERTS 4 SNAPS 914-337-7609 IF YOU CALL ON OFF HOUR PLEASE LEAVE YOUR NAME AND NUMBER AND WE WILL RETURN YOUR CALL TO TAKE YOUR ORDERS...SORRY FOR THE INCONVENIENCE

Please note: For anyone who goes to see the movie "The Sisterhood of the Traveling Pants part 2" Sondra Roberts handbags are featured through out the movie!
 Sondra Roberts handbags have been seen on a number of popular shows, including The O.C. and Desperate Housewives. They've also captured attention decorating the accessory pages of fashion magazines Cosmopolitan, Instyle , Lucky , Shop ETC , Marie Claire and the New York Times Style section. Suffice to say, the label has made some waves.
The brand distinguishes itself through distinctly fashion-forward designs and exotic materials. Some of the more recent seasons have included chic details like whipstitching and interesting texture combinations. Whether it's lush Italian leather, snake skin or faux leather, any Sondra Roberts bag will inspire you (and those around you!) to "ooh and ahh!"
Sondra Roberts has been making her funky, contemporary handbags for over 25 years. She is frequently recognized for producing some of the most unique, high-quality items. And winter, spring, summer or fall, we know you'll be able to find a Sondra Roberts bag to pull all of your seasonal accessories together.
We congratulate Sondra Roberts Winner of the Dallas Fashion Award!
Sondra Roberts 4 Tier Snap Envelope  Medium Clutch
The Original Faux quilted & Crocco 4 snaps are back for Spring /Summer!!
"AS SEEN ON TODAYS SHOW"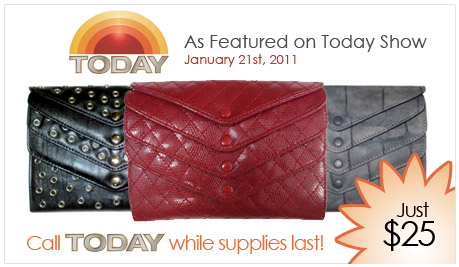 Price $25.00
Web site closing on august 15th 2012 we are offering 50% off of all items
use code:Final50 at check out
all sales are final!